Registered Fitness Professional

Marietta Mehanni
Northcote, VIC
298 0-120 is a NEW PROFESSIONAL
- Limited experience
- Initial education

120-230 is a DEVELOPING PROFESSIONAL
- Some industry experience
- Developing networks
- Further education

230-290 is an ACCOMPLISHED PROFESSIONAL
- Commitment to learning
- Extensive experience
- Multiple references

290-300 is an INDUSTRY LEADER
- 12+ years industry experience for 300 rating

Specialisation
Group Exercise & Aqua Aerobics
Industry Experience
28 years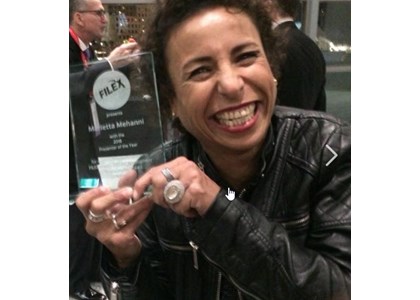 A Bit About Me
2016 NZ Educator of the Year, Marietta Mehanni is a multi-award winning presenter and Australian Fitness Network Ambassador with over 27 years of experience. Master Trainer and Education Coordinator for Gymstick International and Pelvic Floor Ambassador for Continence Foundation Australia and Co-Creator of mSwing, Marietta is passionate about developing fun exercise formats that are suitable for all ages and abilities.
References (98/100) View All
Marietta is an extremely diligent, talented, valued and vibrant fitness professional. I've known her for over 20 years, having worked together on a variety of projects. She's an exceptional instructor who attempts new challenges and ventures with enthusiasm & vision. She strategically absorbs the latest trends and new skills. Her work ethic and productivity has ensured a solid foundation for her to continue developing user-friendly programs & products. - Marietta is a true professional.
Jennifer Schembri-Portelli, Founder of WETS, Water Exercise Training Service
Sep 2015
Marietta Mehanni is a highly sought after instructor and presenter. She is very passionate about her classes and delivers high quality, well thought out lessons every time. Her huge class numbers are a reflection of her high standard. Having worked with Marietta for close to 29 years, I can say that she is always looking forward, always learning and taking on new challenges. She is on top of current trends and latest advances in our industry. I would highly recommend Marietta.
Carol Syer, Dry Program Coordinator, Active Monash
Sep 2015
In short, Marietta is an inspiration. Not only is she one of Australia's greatest (and most prolific) educators in Group Exercise, she maintains a weekly fitness class load to rival the most hardened fitness professional. Over the years I have come to marvel at her level of commitment and contribution to the Group Exercise community. She is my first port of call when I require any insight into this important part of the fitness industry. Her intuition and advice have always been invaluable.
Dennis Hosking, Managing Director, HealthyPeople.com.au
Aug 2015
Work History (100/100)
Group Exercise Classes, Aqua Aerobics
Jan 1991 - Current
Northcote Aquatic & Recreation
Aqua Aerobics
Jan 2003 - Current
Doncaster Aquarena
Group Exercise
Jan 2003 - Current
Kew Recreation YMCA
Group Fitness
Jan 2012 - Current
Re-Creation Burwood East
Aqua Aerobics
Jan 2013 - Current
Monash Aquatic Centre
Creator, Coordinator, International Master Trainer
Jan 2007 - Current
Gymstick International
Ambassador
Jan 2010 - Current
Australian Fitness Network
Group Exercise Classes, Aqua Aerobics
Jan 1990 - Current
Melbourne City Baths
FILEX Presenter
Apr 1998 - Apr 2018
FILEX
Workshop Presenter
Jan 1991 - Feb 2018
Music and Motion Studio
Conference Presenter
Nov 2007 - Nov 2017
FITEX New Zealand
Conference Presenter
Nov 2007 - Nov 2017
FITEX New Zealand
Aqua Aerobics
Jan 2011 - May 2016
Virgin Active
Show all
Education (100/100)
| | |
| --- | --- |
| First Aid | Expires Jul 2020 |
| CPR | Expires Jul 2018 |
| | |
| --- | --- |
| Aquatic Conference | May 2018 - May 2018 |
| Aquatic Exercise Association | LEVEL B |
| | |
| --- | --- |
| FILEX | Apr 2018 - Apr 2018 |
| Australian Fitness Network | LEVEL B |
| | |
| --- | --- |
| Women's Health + Fitness Summit | Oct 2017 - Oct 2017 |
| Women's Health and Fitness Summit | LEVEL B |
| | |
| --- | --- |
| FILEX | Apr 2016 - May 2016 |
| Australian Fitness Network | LEVEL B |
| | |
| --- | --- |
| Effective Movement for any Population Instantly | Aug 2015 - Aug 2015 |
| OD on Movement | LEVEL B |
| | |
| --- | --- |
| Kettleworx | Jan 2013 - Jan 2013 |
| Kettleworx | LEVEL B |
| | |
| --- | --- |
| Vipr Training | Jan 2013 - Jan 2013 |
| Vipr | LEVEL B |
| | |
| --- | --- |
| Vipr Training | Jan 2011 - Jan 2011 |
| Vipr | LEVEL B |
| | |
| --- | --- |
| Exercise to Music Certification | Jan 2008 - Jan 2008 |
| SCW | LEVEL A |
| | |
| --- | --- |
| World Gymstick Trainer | Jan 2008 - Jan 2008 |
| Gymstick Academy | LEVEL A |
| | |
| --- | --- |
| WETS Aqua Instructor Course | Jan 2007 - Jan 2007 |
| SCW | LEVEL A |
| | |
| --- | --- |
| unused5 | Jan 2005 - Jan 2005 |
| CAE | LEVEL C |
Show all
Achievements
| | |
| --- | --- |
| 2018 FILEX Presenter of the Year Award | Apr 2018 |
| Fitness Australia | |
| | |
| --- | --- |
| Presenter - MasterBlaster 2018 | Feb 2018 |
| View participant feedback | |
| | |
| --- | --- |
| Advisor Board Member for Power Music | Jan 2018 |
| Power Music | |
| | |
| --- | --- |
| My Group Move Co Founder | Aug 2017 |
| My Group Move | |
| | |
| --- | --- |
| Educator of the Year | Nov 2016 |
| Exercise New Zealand | |
| | |
| --- | --- |
| mSwing co creator | Jan 2016 |
| mSwing | |
| | |
| --- | --- |
| Presented for Australian Physiotherapy Association | Jul 2015 |
| Australian Physiotherapy Association Perth | |
| | |
| --- | --- |
| Exercise New Zealand Road Show | Jun 2015 |
| Exercise New Zealand | |
| | |
| --- | --- |
| Launched Gymstick Online App | Aug 2012 |
| Simplecue / Classcast | |
| | |
| --- | --- |
| Launch of the Pelvic Floor First initiative | Jul 2011 |
| Continence Foundation of Australia, Sydney | |
| | |
| --- | --- |
| Pelvic Floor First Initiative | Jul 2011 |
| Contintence Foundations Australia | |
| | |
| --- | --- |
| Finalist for Fitness Leader of Year | Apr 2011 |
| Australian Fitness Network | |
| | |
| --- | --- |
| Pelvic Floor Ambassador | Jan 2011 |
| Continence Foundation of Australia | |
Show all