Registered Fitness Professional

Luke Burles
Burpengary, QLD
Ultim8 U Health and Fitness
215 0-120 is a NEW PROFESSIONAL
- Limited experience
- Initial education

120-230 is a DEVELOPING PROFESSIONAL
- Some industry experience
- Developing networks
- Further education

230-290 is an ACCOMPLISHED PROFESSIONAL
- Commitment to learning
- Extensive experience
- Multiple references

290-300 is an INDUSTRY LEADER
- 12+ years industry experience for 300 rating

Specialisation
Personal Training & Nutrition
Industry Experience
5 years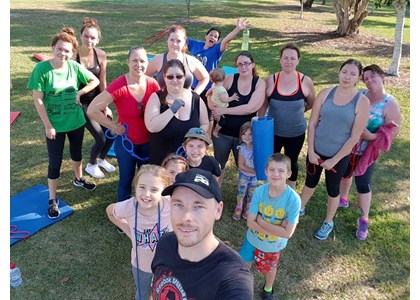 A Bit About Me
Hi
I am a mobile trainer on a mission to help lower the Australian obesity rate by teaching people the importance of regular exercise and a balanced nutritional eating habit.
We believe in the 80% 20% = 100% mindset principle.
We are also apart of The Unconventional Training Academy.
We help people to improve their strength, mobility and overall boost their way of life for the rest of their lives.
References (60/100) View All
Luke came to us as a student wanting to further his knowledge and demonstrated shortly after that a massive passion for what we do and is now the first intern Australia wide for our academy and now working his way up to being presenter. An absolute great addition to the team with massive knowledge and skills valuable to anyone out there
Jason Griggs, Founder and Director, Unconventional Training Academy
Jun 2017
Luke Hurles genuinely is there to help you improve your fitness & nutritional habits. During our sessions, he takes care with teaching us correct technique. Our sessions are varied & my fitness has quickly improved. I've referred Luke to several friends & acquaintances.
Tracie Tuhega, CLIENT
Jan 2018
I've always found it hard to stick with a boot camp, but when I came across Luke and the boot camp that his created I was shocked to see how much I enjoyed it, I've finally found the right boot camp for me!! I feel 110% comfortable in the surroundings and the way he pushes me to my full potential, not only is he a great personal trainer but his also a fantastic person, in general, such a nice kind hearted soul that I would recommend to anyone! His fantastic with children and always welcomes us with such a warm welcoming that makes me want to go back every day, I'm so grateful that I've finally found the perfect trainer.
Hayley Tierney, CLIENT
Jan 2018
Work History (55/100)
Owner, Personal Trainer, Health Coach
Jan 2015 - Current
Ultim8 U Health & Fitness
Trainer
Jul 2012 - Nov 2015
Snap Fitness Moray WA
Education (100/100)
| | |
| --- | --- |
| First Aid | Expires Sep 2019 |
| CPR | Expires Jun 2019 |
| | |
| --- | --- |
| Unconventional Mobilty | Jul 2017 - Jul 2017 |
| Unconventional Training Academy | LEVEL B |
| | |
| --- | --- |
| Power Bands for Mobility, Strength & Conditioning | Jun 2017 - Jun 2017 |
| Unconventional Training Academy | LEVEL B |
| | |
| --- | --- |
| Cert IV New Small Business | Jun 2016 - Jun 2017 |
| Sarina Russo Institute | LEVEL C |
| | |
| --- | --- |
| Level 1 Battle Rope | Oct 2016 - Oct 2016 |
| Fitness Education Online | LEVEL B |
| | |
| --- | --- |
| Fundamentals of Functional Mobility Level 1 | Sep 2016 - Sep 2016 |
| Functional Training Institute | LEVEL B |
| | |
| --- | --- |
| Fundamentals of Kettlebells Level 1 | Aug 2016 - Aug 2016 |
| Functional Training Institute | LEVEL B |
| | |
| --- | --- |
| Diploma of Fitness | Jun 2015 - Aug 2016 |
| Sage Institute of Education - RTOID 110070 | LEVEL A |
| | |
| --- | --- |
| Certificate III in Nutrition and Dietetic Assistance | Jan 2016 - Aug 2016 |
| Sage Institute of Education - RTOID 110070 | LEVEL B |
Show all