FITREC tips for Re-Opening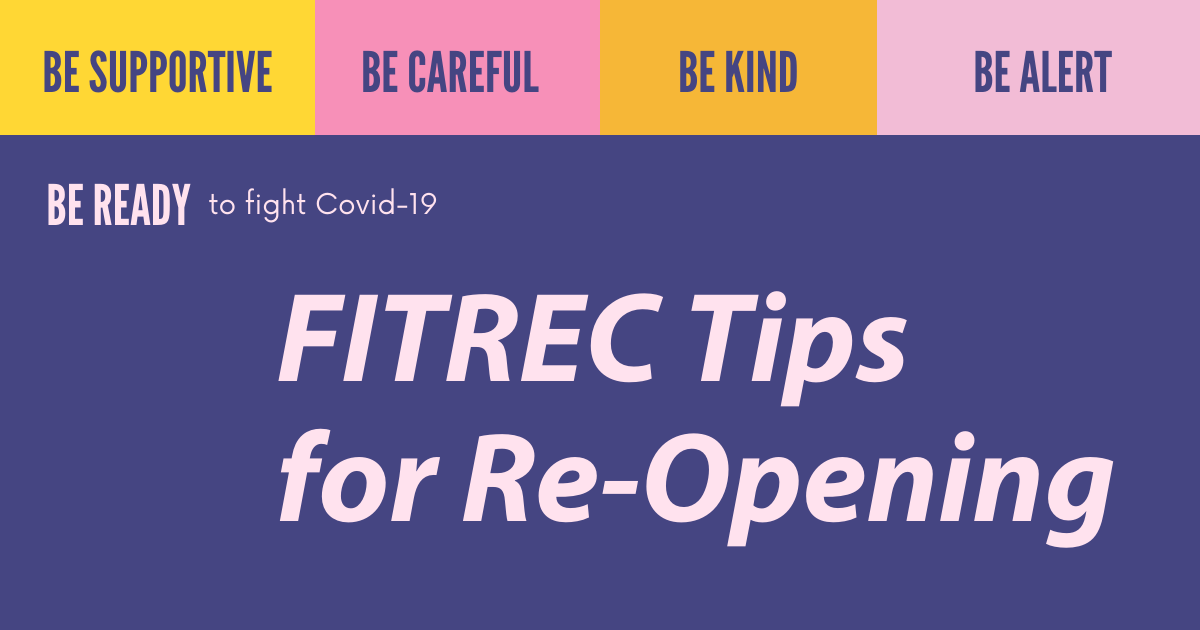 FITREC TIPS FOR REOPENING
While there's no 'one size fits all' approach to successfully reopening your fitness facility, here are five general guidelines to consider as you prepare for reopening.
As is very clear throughout our latest edition of Raising the Bar, the most important thing for a successful relaunch will be earning and keeping the trust of your members. So let this reality be your guiding light at all points of decision making.
There is a lot of work to be done in this downtime, and now that we have a better idea of the timing when facilities will start reopening, now is the time to get busy!
1. Continue to heed government directives
Obviously, staying updated and adhering to federal, state and local government directives remains first and foremost. For contact tracing purposes you can encourage your staff and members to download the COVID SAFE app.
Your business should be very clear on your methods for contact tracing of both staff and members. And you should have an equally clear procedure of how you'll report your contact tracing data to the authorities in the event that a suspected or confirmed case of COVID-19 is detected within your facility. Of course, everyone in your team should be aware of this process.
Your CRM system will hopefully do some of the hard yards when it comes to monitoring the movements of your members as they enter, exit and move around the club. Perhaps your staff can use similar swipe-style monitoring too? Other methods may include member/staff only areas, and introducing booking/reservation systems for things such as visits/arrivals, classes, workouts and equipment usage – with duration limits implemented on each of these activities.
2. Update your processes and procedures
Your new check-in process for both staff and members will need to be designed with transmission mitigation at the forefront.
Things to consider...
If you'll require a medical clearance for your higher-risk members to enter;

How will you communicate your new terms and conditions to members and staff;

What roles will you need staff to fill and what training will those people have to undertake prior to recommencing;

What strategies do you have in place to support your members and staff as they adjust to the "new normal";

And at what point will you have your staff and members sign off on their employment agreement or membership contract to confirm their understanding and acceptance of the updated policies and procedures?
You'll also need to consider if and how you'll integrate any services that you may have been delivering during lockdown.
3. Keep your site clean and processes visible
To reaffirm trust in your brand, your members and staff need to feel 100% confident that you're committed to cleanliness. You can achieve this by:
Introducing sanitisation processes upon arrival and exit

Increasing your cleaning frequency and depth

Offering sanitisation stations and/or gloves or PPE (personal protective equipment) for members and staff to use

Displaying signage detailing your cleaning procedures, methods and reporting

Minimising physical touchpoints throughout the facility

Introducing equipment sanitisation processes between classes

Increasing your frequency of professional cleaning services

Switching off facilities that are communal use such as steam rooms, saunas, café areas and water coolers
4. Heed distancing and capacity regulations
You'll need to have a plan to manage and monitor the maximum number of people in your facility.
Even if distancing regulations become more relaxed, chances are many members/clients will prefer to keep their distance from others, at least in the immediate future. You can satisfy this need by:
Increasing the space between your gym equipment. If you can't physically do this then unplug and place signs on every second treadmill or bike, for example, to ensure people aren't physically sitting or running right next to each other
Physically marking out spots for people to stand on while waiting. This may apply at your front door, reception, bathrooms, staff rooms, gym floor, and outside your group fitness studio
Inside your group fitness studio, you'll need to visually mark out participant boundaries
Your staff room space may also need to be redesigned so you don't have people sitting right next to each other.
5. Make your business agile
Your business needs to be nimble enough to adjust to future changes as they're stipulated. What we've learned from this situation is that things can change dramatically and at lightning speed. So make sure you have agile systems in place and your staff are sufficiently empowered to be able to make the necessary decisions if/when your business needs to change directions with little warning.
Consider also how you'll do things differently should we need to shut down again.
And make sure your legalities are all in order
If you're doing things differently then you'll need your members to sign a new membership contact, indicating their acceptance of the new conditions and terms.
This applies also to staff. Worker's Compensation claims now allow for COVID-19, so check in with your legal people to find out exactly what you need to do to ensure you are adequately covered from every angle, when you reopen.
If you're continuing to deliver services from lockdown that you didn't deliver before, you may also need some legal advice to ensure you're adequately covered to do so.
Other Helpful Links