Vaccination status for fitpros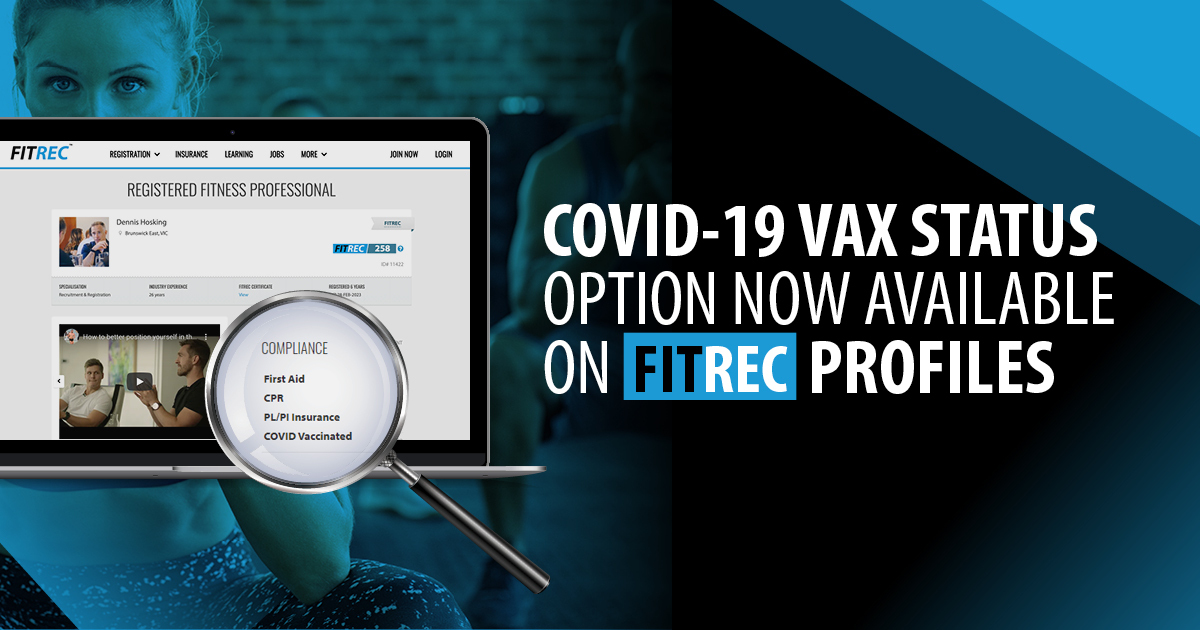 FITREC now gives registered fitness professionals the option to show that they are fully vaccinated for COVID-19.
For any registered professionals that have not yet been vaccinated, or do not wish to show they have been vaccinated, or choose not to be vaccinated, their profiles remain unchanged. There is no reference to vaccination status on FITREC profiles unless the professional wishes it to be there.
Vaccination status is self-reported. Unlike with qualifications and certificates, FITREC is not currently requiring proof of vaccination status.
"We appreciate that vaccination has become a divisive issue in all sectors, not the least in fitness", says Managing Director, Dennis Hosking. "It is not our intention to add to the debate, this is simply an addition to our service to help those in our community that wish to be clear on their vaccination status for clients and employers".
Dennis comments that "Whether or not proof of vaccination is not required to work in the fitness industry, we appreciate that there are people within the community who will be looking for vaccination status to feel safe about engaging with a Trainer. This may be because they have family that are immunocompromised or because they themselves present a risk to others as Tier 1 or 2 workers."
Asked as to whether many fitness professionals are expected to make use of this feature, Dennis says, "Many professionals may not care either way whether their vaccination status is visible, however for those that do, we're pleased to make this option available.
I absolutely respect everyone's right to choose. If there is a strong desire in our community to express themselves as 'not vaccinated and no intention of getting vaccinated', we'll allow for this as well."
Dennis adds "We all appreciate there are many narratives circulating at the moment surrounding vaccinations. Personally, the narrative I follow acknowledges the toll this virus is taking on our health services and the disproportionate impact it's having on the unvaccinated. As such, I've chosen to be vaccinated and this is reflected on my FITREC profile."
FITREC registered professionals will find the check box to indicate they are fully vaccinated under the Summary tab when logged in to their FITREC account. The indication of vaccination status will be shown under a new "COMPLIANCE" section that includes CPR, First Aid, Working with Children Check, Police Check and Insurance details.
FITREC registration is the leading source of transparency and accountability for the fitness industry. The ability to indicate vaccination status is another way that FITREC is giving fitness professionals greater control over how they present their professional selves to the fitness industry.
About FITREC
FITREC is a government recognised registration service for fitness professionals and businesses. FITREC provides industry-leading levels of transparency and accountability and has been instrumental in raising standards throughout the fitness industry.