UPDATES for our community

Monday 15th JUN 2020 - Day 84 of Gym Closures

Current situation by state...

All the below are contingent upon the managing COVIDSafe plans and maintaining social distancing. VIC remains the only state where gyms are still closed. For the next week at any rate.

ACT - Up to 100 people in a facility.

TAS - Indoor facilities can open for up to 20 people, outdoor for up to 20. From this Wednesday gatherings indoor and outdoor will increase to 80 people.

NSW - Gyms can open, maintaining the 4SM rule - MUST have a COVID Safe plan. Any class or organised event can have 20 or less participants (excluding staff).

VIC - Up to 20 people in a session, outdoors only. Indoor facilities remain closed until June 21.

WA - "Gyms, health clubs, and indoor sports centres can offer the normal range of activities, including use of all gym equipment (gyms must be staffed at all times and undertake regular cleaning)." The four square meter rule has been reduced to 2 square meters.

SA - Up to 80 people permitted on site (indoors and outdoors), although max of 10 in a group exercise class and max of 20 in a room doing individual workouts.

QLD - Gyms can have up to 20 people on site. More, with an approved COVIDSafe plan.

NT - Pretty much business as usual.

Friday 12th JUN 2020 - Day 81 of Gym Closure
In NSW, gyms are set to reopen tomorrow, with a 20-person cap for classes and a 100-person cap for venues.
Thursday 4th JUN 2020 - Day 73 of Gym Closure
QLD Government is allowing up to 100 people in gyms from June 10.
Learn more about these changes here. You can tap into the QLD 'Readiness to Play' Checklist here.
Tuesday 2nd JUN 2020 - Day 71 of Gym Closure
Congratulations NSW, you'll be open by the end of next week (June 13 to be precise).
Learn more about the upcoming changes to NSW restrictions here.
VIC won't be far behind, I'm sure of it. And TAS, I reckon you might be shortly after VIC.
Monday 1st JUN 2020 - Day 70 of Gym Closure
Congratulations SA, ACT and QLD, on being able to open.
Only three states left to open the gym doors - VIC, NSW and TAS. Maybe we'll get some early open news, like QLD.
Show 'em what's possible, other states!
Need to get a COVID Safe Plan sorted? Start with the National COVID-19 Coordination Commission COVIDsafe plan.
Friday 29th MAY 2020 - Day 67 of Gym Closure
Gym opening updates.
VIC - Monday 22nd June; NSW - Monday (TBC); TAS - Friday 15th June; WA - Already open; SA - Monday 1st June; NT - Already open; QLD - Friday 12th June; ACT - Saturday 30th May
WooHoo!
Monday 25th MAY 2020 - Day 63 of Gym Closure
Restrictions are easing. Here's what we know so far...
VIC (from the DHHS website)
From 11:59 pm on 31 May - Up to 20 people can participate in outdoor group sport and exercise activities, provided you can keep your distance (at least 1.5 metres apart) and they are not competitive. Up to 20 people can use outdoor gyms. Indoor and outdoor swimming pools can be opened to a maximum of 20 patrons per separate enclosed space and a limit of 3 persons per lane in each pool.
From 22 June 2020 - Indoor sports centres and venues can be opened with up to 20 people allowed per separate enclosed space, subject to the four square metre rule and up to 10 people per group/activity. Indoor physical recreation (e.g. gyms, health clubs, class fitness studios) can be opened with up to 20 people allowed per separate enclosed space, subject to the four square metre rule and up to 10 people per group/activity. Indoor and outdoor swimming pools will remain at a maximum of 20 patrons per separate enclosed space, subject to the four square metre rule calculated on the publicly accessible area excluding the pool and a limit of 3 persons per lane in each pool.
NSW - Remaining at max of 10 participants outdoors. No published dates for easing of restrictions available.
TAS (via the TAS Govt website)
Existing restrictions remain. No published dates for any future easing of restrictions.
WA (from the WA Roadmap)
Now at Phase 2, which allows for outdoor or indoor fitness classes with no shared equipment, up to 20 participants, public pools (1 indoor and multiple outdoor) permitted to open under strict rules and up to 20 patrons per pool. No published dates for moving to Phase 3.
SA (via SA Govt website)
Outdoor training with up to 10 participants. Gyms, health clubs, fitness centres, yoga, barre and spin facilities remain closed. Gyms set to open on June 1st.
NT (via the NT Govt website)
Gyms and Studios are open. "Activities included in step two should be undertaken in less than two hours. "
QLD (via QLD govt website)
Outdoor training only with a limit of 10 people. No published dates for any future easing of restrictions.
ACT (via the ACT website)
Outdoor training only with a limit of 10 people. No published dates for any future easing of restrictions.
Wednesday 20th MAY 2020 - Day 58 of Gym Closure
Want to know how to effectively recover from the COVID shutdown - Issue 4 of Raising the Bar has it all (and more).
You can read it online here. For highlights, check out the introduction video below.
Thursday 14th MAY 2020 - Day 52 of Gym Closure
In other news, our weekly industry newsletter went out this afternoon.
You can read it online here. Or grab the summary from the video below.
Wednesday 13th MAY 2020 - Day 51 of Gym Closure
Here's another version of the government's framework (with thanks to Mel Tempest)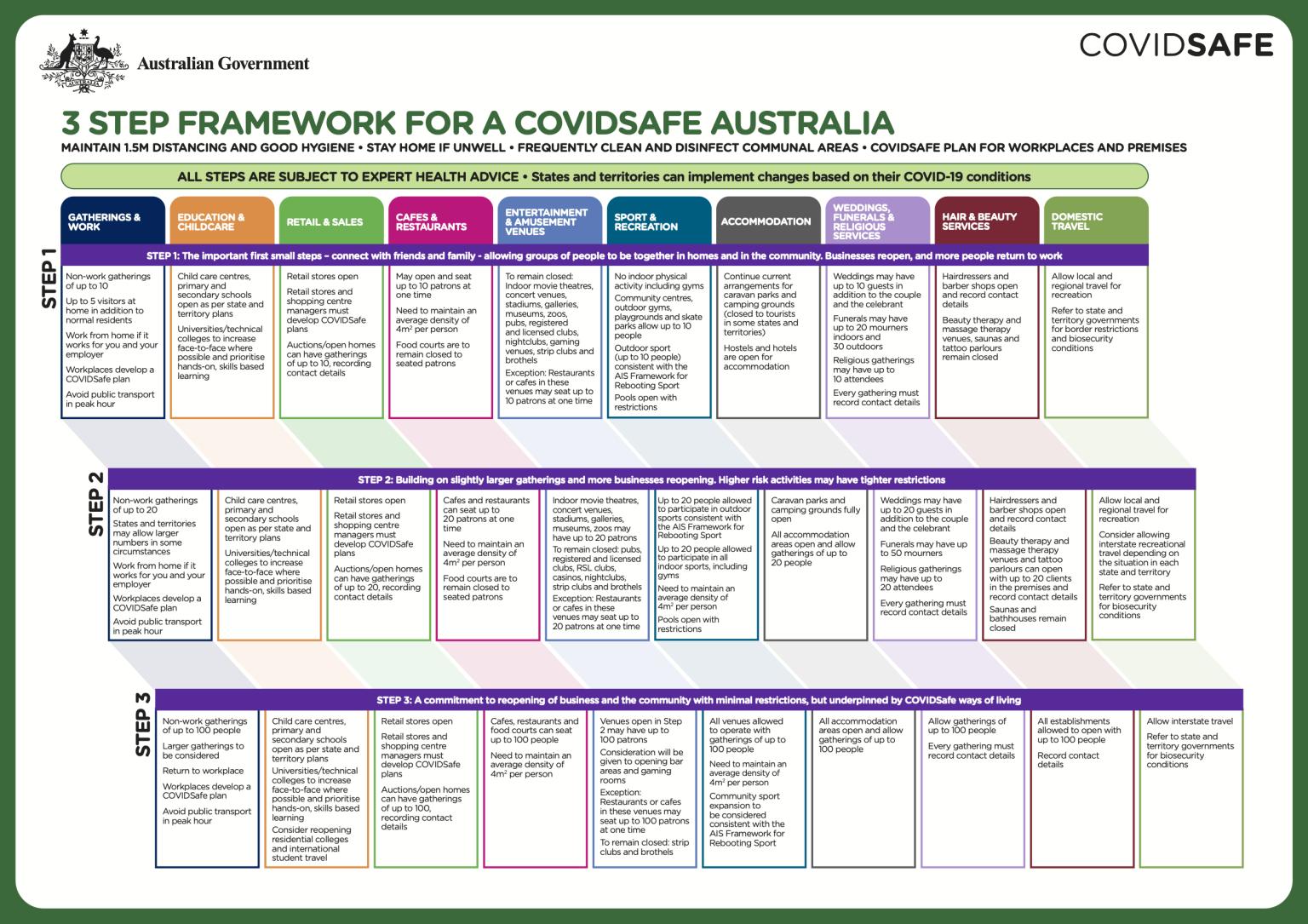 Monday 11th MAY 2020 - Day 49 of Gym Closure
UPDATE for Victoria
From midnight Tuesday, we can have up to 10 people in outdoor spaces. Although the word from the Premier was very much along the lines of 'only if necessary'. There is clearly a desire to ensure that any outbreaks are easily contained and effected people are easily identified and quarantined. As for social distancing and cleaning, you know the drill.
Official notice from the ACT informs us...
"I can advise that the key changes to ACT restrictions which may impact you are:
An increase in the number of people involved in outdoor personal training and boot camps to a maximum of 10 people, excluding the instructor(s), with the following restrictions:
Participants should bring their own equipment where possible (e.g. gym mat).
Equipment should not be shared (for example weights, skipping ropes, medicine balls) and there should be no contact between participants, such as boxing, during sessions."
Sunday 10th MAY 2020 - Day 48 of Gym Closure
Updates on the different States...
The details from Friday have been updated to reflect new information. Cheers.
Friday 8th MAY 2020 - Day 46 of Gym Closure
Congratulations all, it seems we've earned the right to move to a new stage of restrictions.
Admittedly it's not going to make a massive difference to the fitness industry, but it is a move in the right direction. The federal government's cheat sheet is below.

NOT ALL STATES ARE THE SAME
There is some disparity among the different states. I'm trying to get the specifics and will add them to this page as soon as I can find the facts.
NORTHERN TERRITORY
Groups of up to 10 are currently able to train outdoors. On the 15th, gyms and studios will be able to open.
SOUTH AUSTRALIA
Is currently allowing groups of 10 to train outdoors. This looks set to remain until JUN 8.
VICTORIA
Currently still restricted to 1 on 1 training outdoors.
NEW SOUTH WALES
Currently still restricted to 1 on 1 training outdoors.
ACT
Groups of up to 10 are allowed to train outdoors.
TASMANIA
Will begin easing restrictions as of this coming week. Currently maintaining isolation protocols.
WESTERN AUSTRALIA
Currently limited to outdoor groups of up to 10 people, with social distancing rules observed. From May 18th, indoor and outdoor fitness classes of 20 people will also be permitted, provided there is minimal sharing of equipment.
QUEENSLAND
It's still 'outdoors only' from the 15th May, but the numbers are up to 10. Personal training outdoors and Bootcamps are back on! Gyms not set to open until Jun 12th.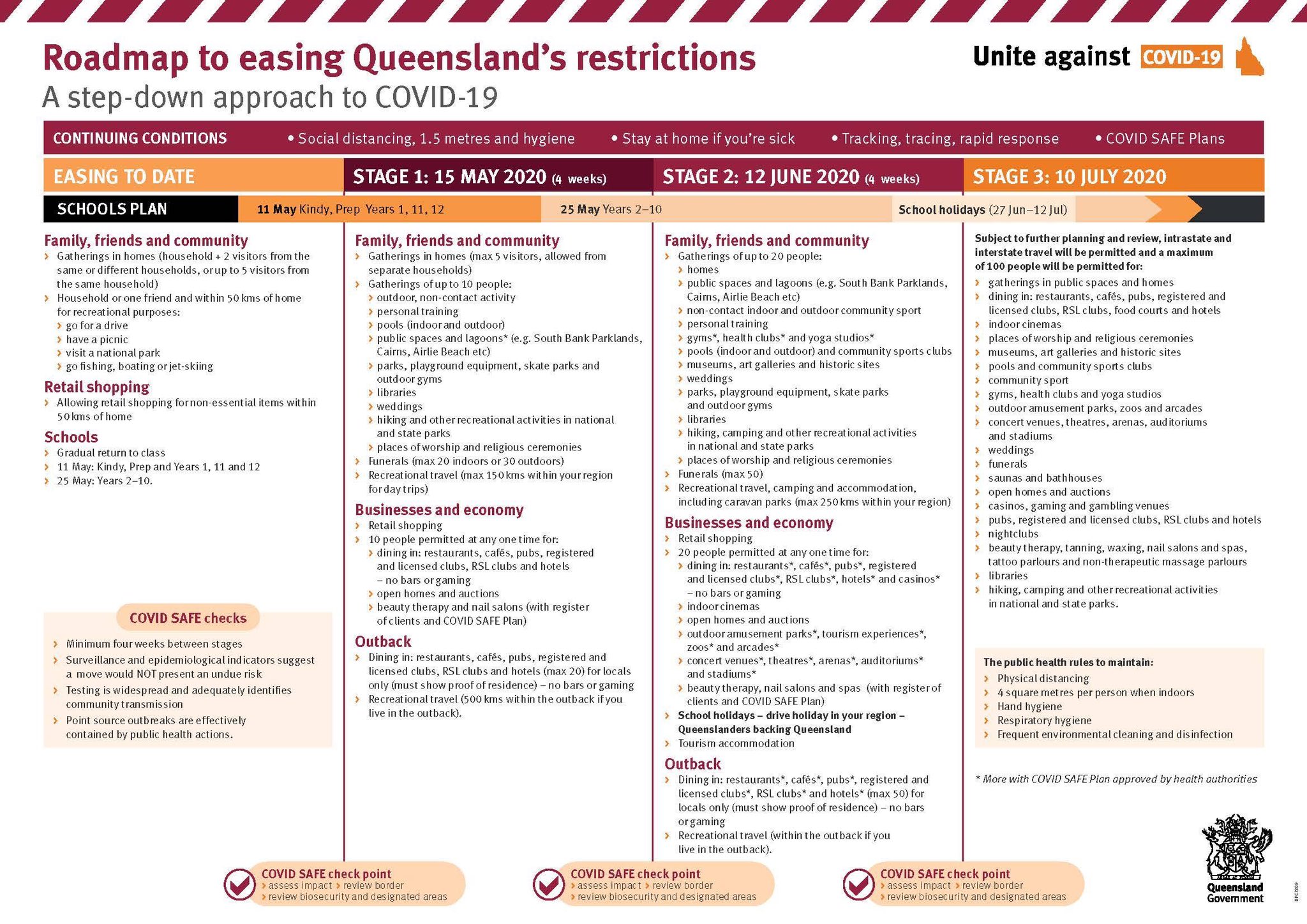 Thursday 30th APR 2020 - Day 38 of Gym Closure
I hope you've had a good week.
If you're in the NT, things will get easier for you from tomorrow.
Restrictions will be eased to allow for outdoor training. And by mid-week, I believe gyms will open again.
The HealthyPeople weekly newsletter is out. Check the video for the summary.
For the details and links, view the online version of the newsletter here.
Monday 27th APR 2020 - Day 35 of Gym Closure
Personal Training in South Australia and Queensland
Further to queries made today, I'd like to confirm that Personal Training in Queensland is restricted to one-on-one sessions, outdoors with social distancing in place. View the Queensland Health Direction here.
Personal Training in South Australia is available with up to 10 participants, outdoors only with social distance in place. View the Emergency Management Direction here.
Insight into the COVIDsafe app.
There is much debate about the safety of data with this app. You can learn more detail on the app here (via The Guardian).
Downloading the app is entirely voluntary but could help with the easing of restrictions.
As to concerns about security, familiarise yourself with the details and make a call (again, it is voluntary). Australian tech billionaire Mike Cannon-Brookes (Atlassian) highlights "how little time [people] think before they download dozens of free, adware crap games that are likely far worse for their data & privacy than this ever would be!"
Sunday 26th APR 2020 - Day 34 of Gym Closure
The one COVID-19 number to watch
If we want to see our industry open, sooner rather than later, then there is ONE NUMBER that we should be keeping track of. That's the infection Growth Factor. Learn more about where we are currently at and how it works here.
Did you catch the recent weekly newsletter from HealthyPeople?
You can view the video version below. For the written version with links, head here.
Wednesday 22nd APR 2020 - Day 30 of Gym Closure
How Australian gyms are breaking new ground online against business crushing lockdowns.
Matthew Ellmas of SmartCompany has provided a great article on the impact and adjustments going on in parts of the fitness industry.
Changing gears: How COVID-19 could lead to a permanent shift for Aussie bike stores
In another interesting article, Stephanie Palmer-Derrien of SmartCompany highlights how the need to remain active while isolated at home has seen a surge in bike purchases and maintenance.
From The Guardian "Bicycles are the new toilet paper."
Monday 20th APR 2020 - Day 28 of Gym Closure
Forget supplements for a better immune system.
Adopt a decent diet and stay in shape.
Now is a time for differentiation
When things do return to normal, your ability to distinguish yourself from other fitness professionals will be an important part of getting your career underway again. Fortunately, FITREC was built, from the beginning, to reflect the differences in every fitness professional.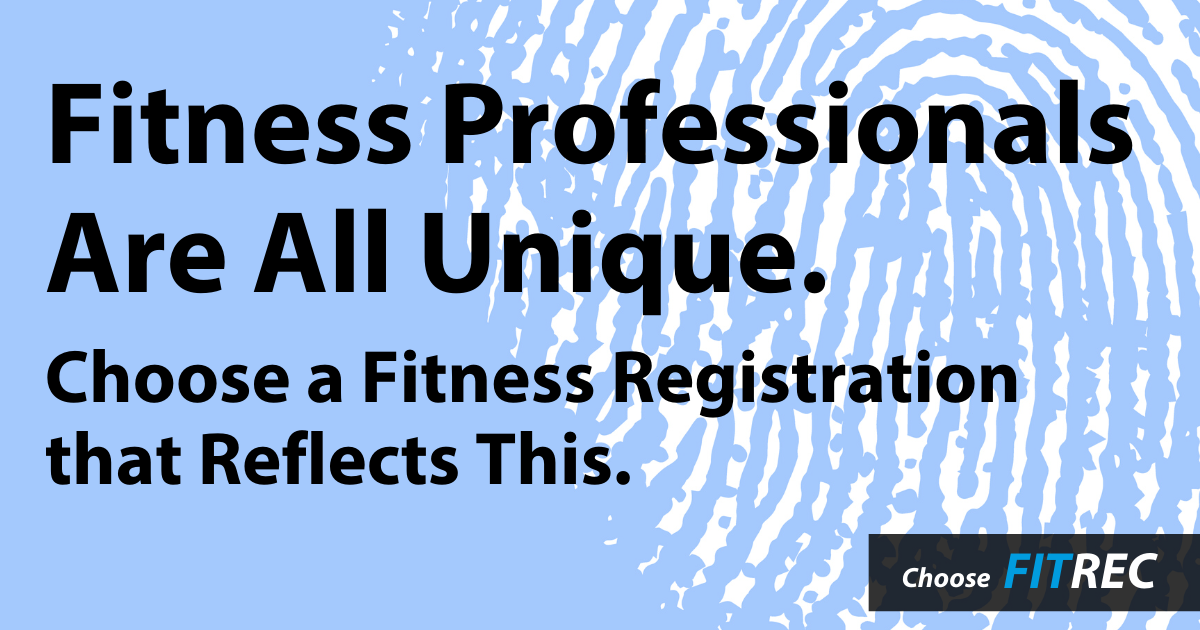 Friday 17th APR 2020 - Day 25 of Gym Closure
Australia set to begin easing coronavirus restrictions in four weeks (from The Guardian)
"Hypothetically, the easing could see police lighten up on enforcement of home isolation rules."
Although... "Morrison made clear on Thursday the major measures combating coronavirus would continue until at least the end of September".
Hmmm... Might be a little too soon to get excited about gym and studios opening soon.
Did you catch our weekly newsletter?
If not, you can read it here or catch the summary in the video below.
Have a great weekend.
Thursday 16th APR 2020 - Day 24 of Gym Closure
Scott Morrison provides three conditions that need to be in place before the governments will look at lifting restrictions:
Increased testing.
Better contact tracing "lifted to an industrial capability" - ie, download the app.
Local response capabilities – the ability to lock down localised areas.
Want to better understand how the Job Keeper subsidy works? Have a skim through this video...
Wednesday 15th April 2020 - Day 23 of Gym Closure
We're still working to provide a better service - Introducing Access to the Archives
To help you find any articles of relevance on FITREC, we've begun categorizing all of our previously published posts to make them more accessible. When you're logged into your FITREC account, you can now 'VIEW ALL' articles or search articles by 'tags'.
We encourage you to check back regularly, as we will be updating this list with popular articles from the HealthyPeople Blog.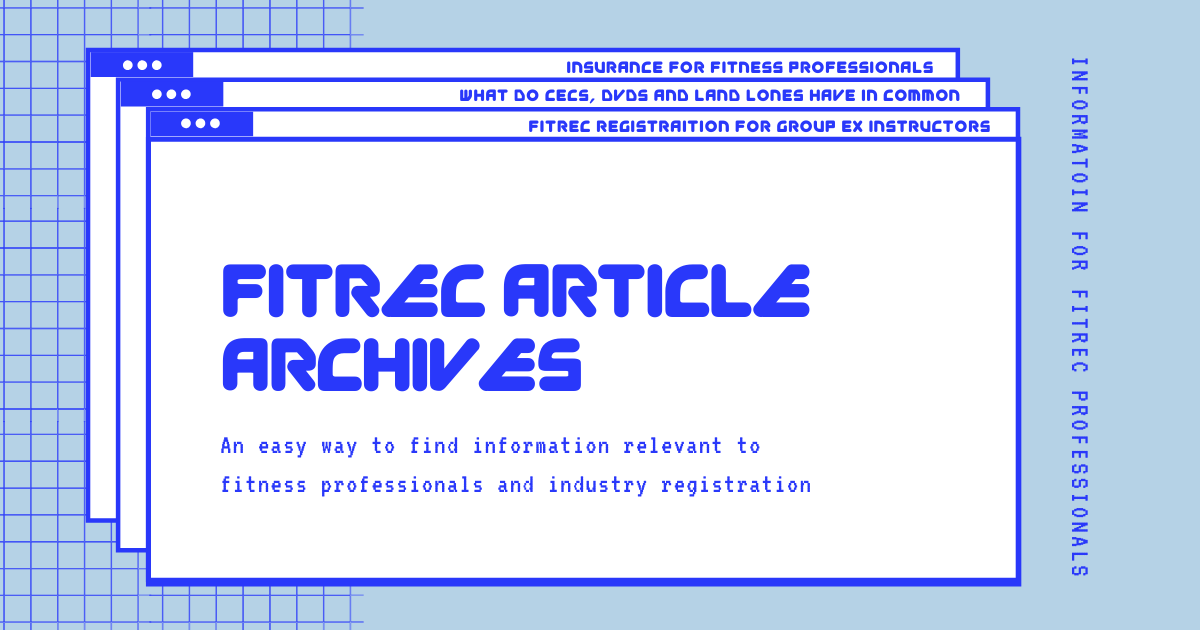 Tuesday 14th April 2020 - Day 22 of Gym Closure
Virtual Training Tips from Steve Grant
The new normal for our industry is online training programs. For the majority of our community, this is new ground.
To help you get your head around how to approach virtual training, here are some great videos from Steve Grant. He addresses uptake, approach and the importance of staying in touch...
Struggling to accumulate CEC's during this time? Don't worry about it!
FITREC does not require CEC's or PDP's. We certainly encourage learning - we recently shared some discounted and free learning opportunities here - but do not believe in a points accumulation system for a modern fitness indsutry. You can learn more here.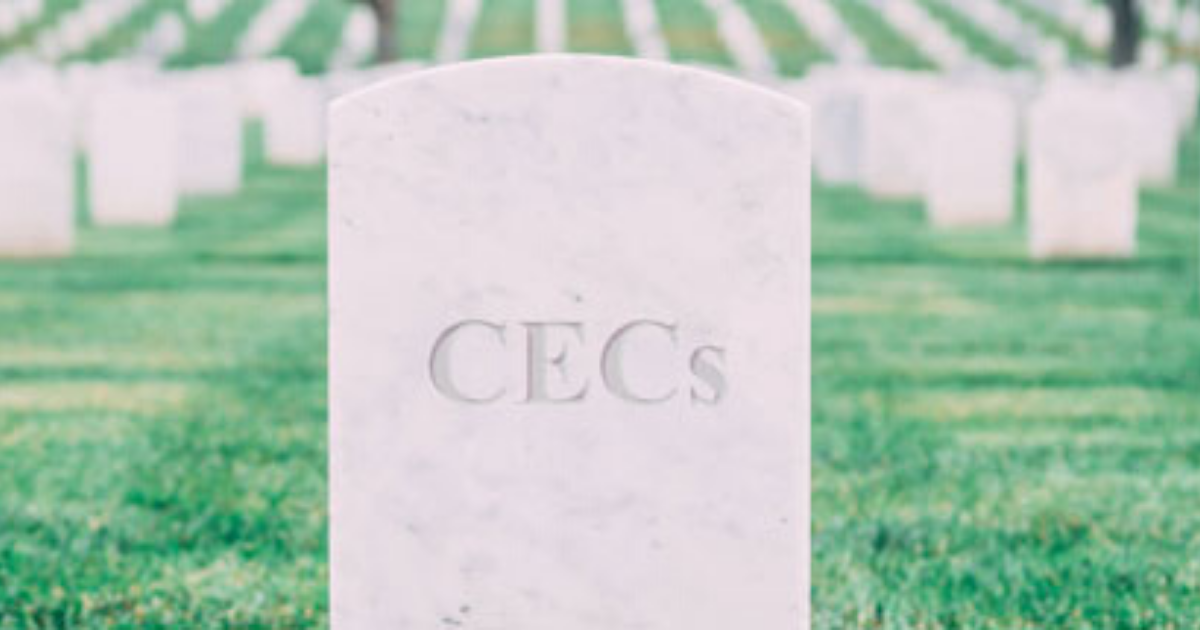 Thursday 9th April 2020 - Day 17 of Gym Closure
The Weekly HealthyPeople/FITREC Industry Newsletter is out.
You can view the newsletter here. If you want to get an idea of what's included, check out the video below (now's the time for experimentation).
Special mention to Pete Gleeson's Good Friday Fundraiser session 8:00 am tomorrow morning. Zoom link here.
Wednesday 8th April 2020 - Day 16 of Gym Closure
In other news, do you know you can apply for jobs with your FITREC profile?
We always intended for FITREC profiles to become an industry standard for benchmarking professionals and an accepted tool for job applications. We're pleased to have taken this further with job applications via FITREC. Learn more here.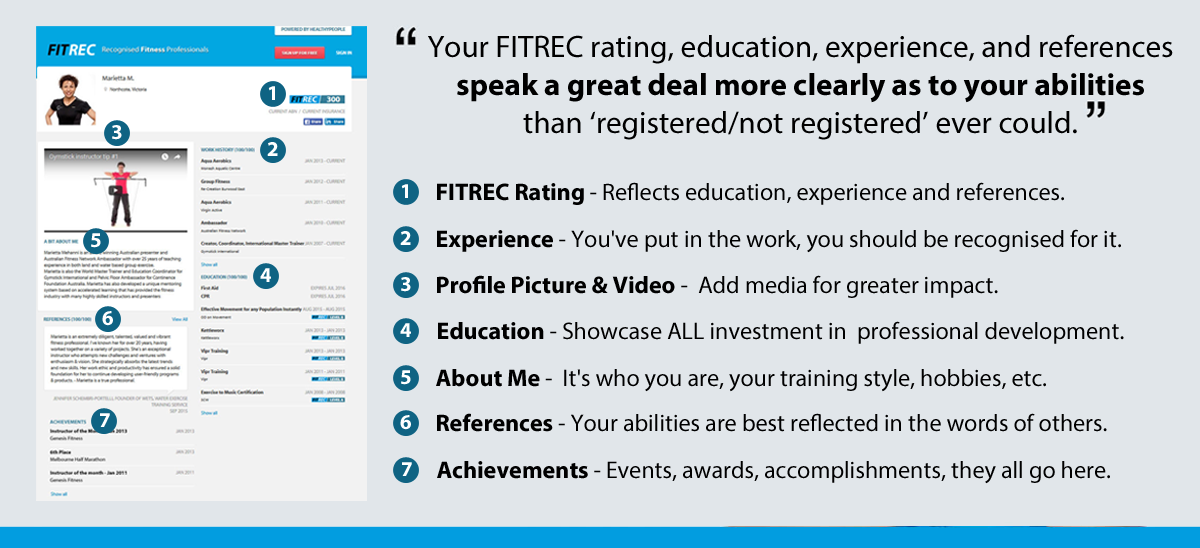 Tuesday 7th April 2020 - Day 15 of Gym Closure
You've got the time and the learning has never been cheaper.
We've put together a page of great and respected providers that are offering great deals on education. Obviously these are online opportunities, so get on it here.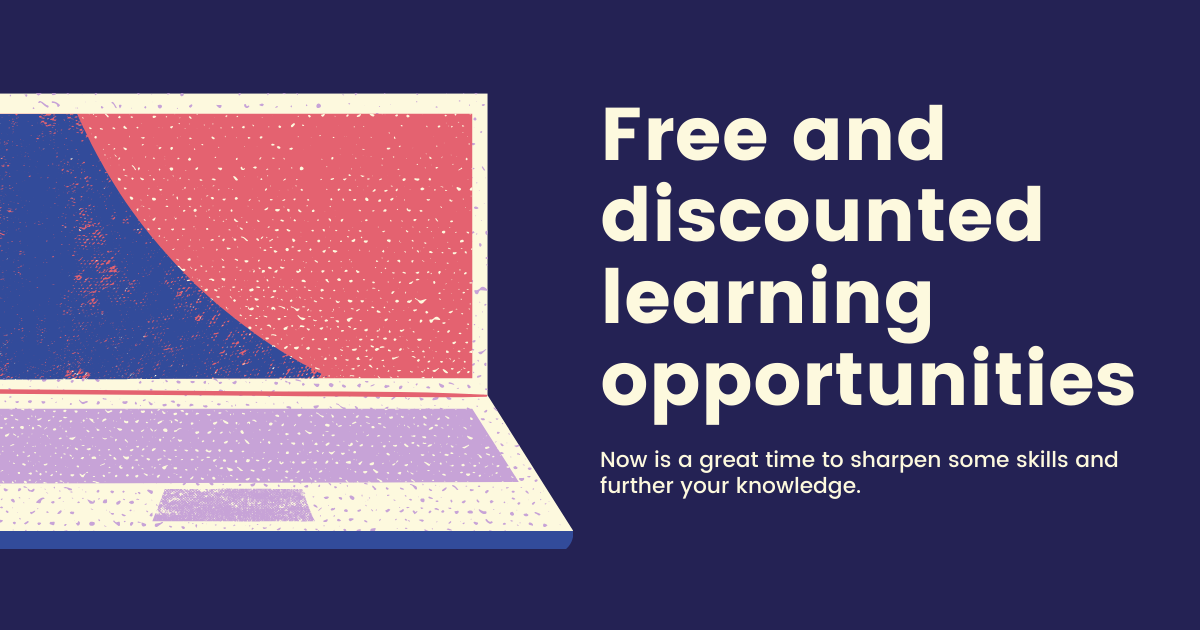 Monday 6th April 2020 - Day 14 of Gym Closure
Goodlife have really stepped up with their Training at home option.
If you're looking for inspiration on how you can maintain a service for your fitness community during this time, check out Goodlife at Home. It's worth a look at all the video options, especially the GoodliVe sessions with Luke Marino and Helen Healy.
Special mention to Pete Gleeson's intro video.
Gyms and Studios are bracing themselves for a January open.
We all hope for a sooner relaxing of the isolation requirement, but many are bracing for a shut down that could extend to the end of the year. As a population, the good news is that we appear to have slowed the infection rate, which is the first step. The next step is to come up with a treatment or a vaccine.
When this is over, I expect there will be many discussions about how we spent our time. Beyond training, reading and work, the wife and I are about to begin learning how to do handstands. What will be your accomplishment?
Stay safe, D.
Friday 3rd April 2020 - Day 11 of Gym Closure
The Healthy Ageing Summit has continued to deliver amazing sessions throughout this week.
The Healthy Ageing Summit was scheduled to run in Brisbane last weekend. In response to the COVID shut down, event organiser, Ken Baldwin, has moved the entire event online. The final few sessions will run over the coming days with the full library of sessions available at the end.
This event has delivered some ASTOUNDINGLY GOOD CONTENT. You can still register for remaining sessions via their website.
We'll keep you posted as to the availability of archived sessions.
The Frant: You need to stay home, and not just because it's the law now – video

What she said...
Thursday 2nd April 2020 - Day 10 of Gym Closure
NSW to enforce lockdown until the end of June!
If you're not already comfortable, now's the time to start settling in. This could be long one.
Wednesday 1st April 2020 - Day 9 of Gym Closure
SmartCompany provides a great summary on JobKeeper subsidies for sole traders
In an industry full of sole traders, this could be a valuable read.
Are sole traders and self-employed people eligible for JobKeeper payments? Yes. Sole traders that have seen the revenue from their business affected by COVID-19 are eligible to receive the JobKeeper payments. Learn more here. You can also view state by state funding assistance here.
Cash flow assistance for businesses - Fact Sheet
Download the government fact sheet here.
Thank you, Marietta Mehanni, for this one...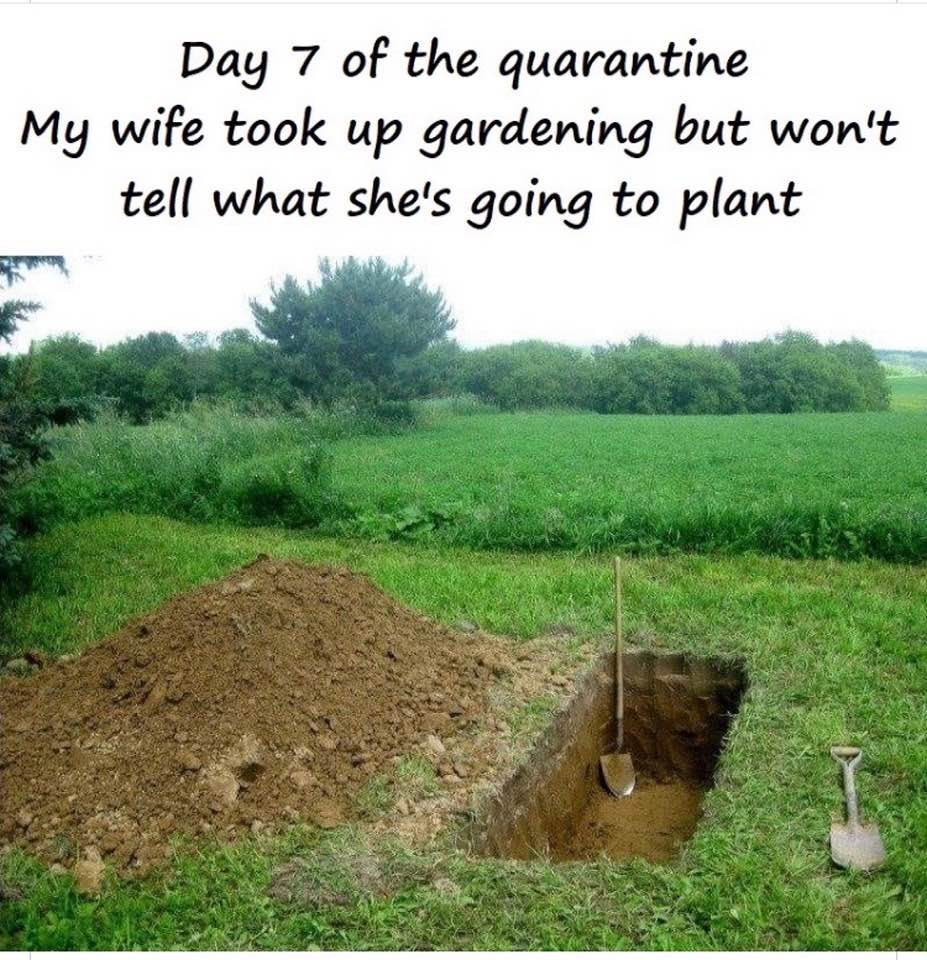 Tuesday 31st March 2020 - Day 8 of Gym Closure
'Two person' rule is now in effect.
Most states are making this rule law, with penalties applying. There's a state by state breakdown here. Notwithstanding FITREC's advice for all training to be taken online, if you are still training clients, please be sure to observe these new rules.
Have you registered for the JobKeeper payments?
The federal government will pay eligible employers $1,500 per fortnight for each eligible worker. I expect that the majority of fitness employers will be eligible for this payment. Register your interest in the JobKeeper payment here. To learn more about eligibility and inclusions, this article from The Guardian presents it well.
A video from the Australian Academy of Science on COVID-19.

Monday 30th March 2020 - Day 7 of Gym Closure
The Victorian Government's Business Support Fund is now open for applications.

Eligible businesses can apply for a one-off $10,000 grant which can be used towards costs such as utilities, rent and salaries, and activities to support business continuity planning. To qualify, you must be based in VIC, employ staff, have a turnover of more than $75,000 and a payroll of less than $650,000. Learn more and apply here.
If anyone has similar details from other states, please let me know and I'll update this space (dennis@fitrec.org).
Sunday 29th March 2020 - Day 6 of Gym Closure
Gatherings are restricted to no more than 2 people!
"Underpinning the new limit on gatherings, public playgrounds, outside gyms and skateparks would be closed from Monday, and group boot camps are no longer permitted."
The rate of infection does appear to be slowing, however, Scott Morisson states that the positive trend was not enough to declare any breakthrough. "We have to slow it further and we have to stop the thing that's worrying us most, which is community transmissions."
While the government has not shut down one-on-one sessions, FITREC maintains the position that moving entirely to online/remote training measures is the only way to guarantee the health and wellbeing of yourself, your clients and your respective families.
Friday 27th March 2020 - Day 4 of Gym Closure
The Healthy Ageing Summit is GO!
Throughout today, our home office has been tuning into the Healthy Ageing Summit online. Ken and his team have done a great job of moving the original Summit online. I thoroughly enjoyed the keynote by Craig Harper and currently enjoying the "Healthy Ageing Summit - Exercise Cognition & Brain Health." This is some next-level information for Trainers. It may not be too late to hook into upcoming weekend sessions. And I believe any ticket purchased gives you a ticket to the in-person event in 2021. Winner!
The explosion of online offerings
Early in the piece, FITREC proposed the development of a page to share details of online services to help Trainers through this time. While this still a consideration, we recognise that in the week since gyms were asked to close, there has been an absolute mass of online offerings arrive. One of the more interesting options is the ability to create your own platform, free of charge, via fitter.com. You can learn more about it in our recent HealthyPeople weekly newsletter.
This was my favourite meme today...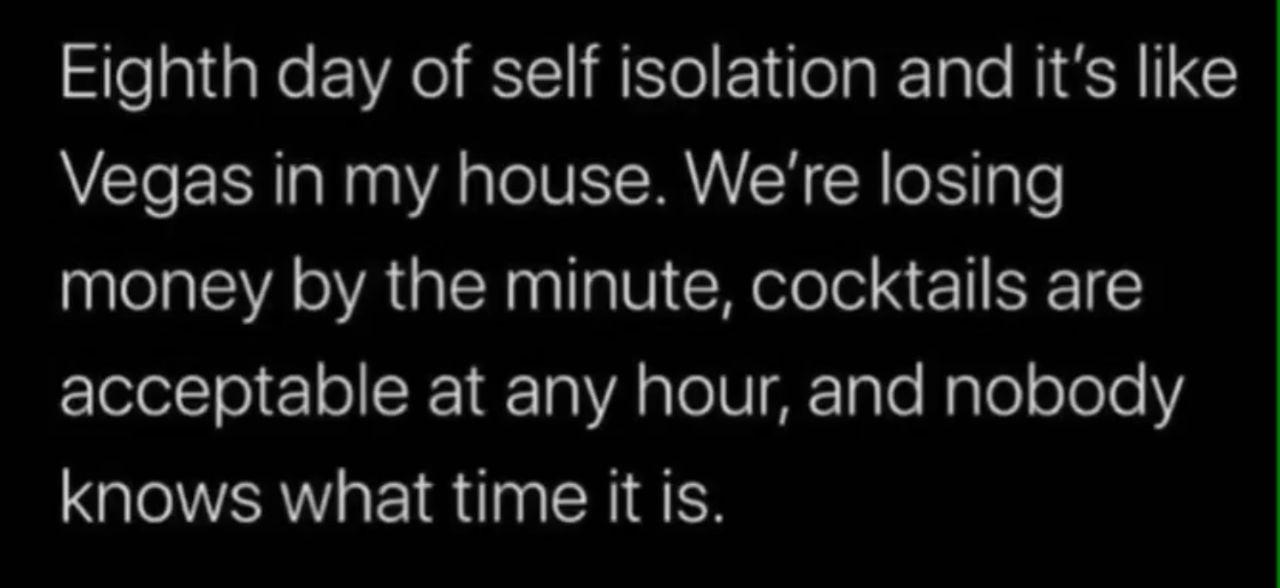 Thursday 26th March 2020 - Day 3 of Gym Closure
The FITREC registration freeze
Last night we sent an email to all members regarding the registration freeze. The response from our community was both humbling and unexpected. Thank you to everyone that took the time to reply. If you missed the news, you can learn more here.
Something to lighten the mood...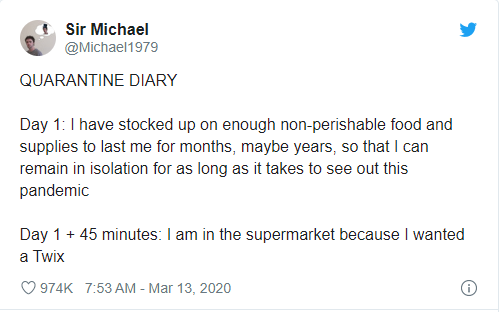 Wednesday 25th March 2020 - Day 2 of Gym Closure
Outdoor Group Training
Last night, Scott Morrison announced that "outdoor personal training and boot camps can continue, but with a limit of 10 people and social distancing arrangements must be strictly enforced."
So yes, Trainers have the ability to train outside with a maximum of 10 participants
However, these are also known facts;
Scott Morrison also shut down more of the services that were previously allowed to open. His address stated very clearly that Australians only leave the house when "it is absolutely necessary you go out".
The Chief Medical Officer is "very worried" about Australia's rising infection rate
5000 doctors around Australia have made a desperate plea for a nationwide lockdown
Countries with infection rates that we are approaching have implemented complete lockdown to prevent the spread
Our position continues to be the importance of getting this infection under control so that we can get back to business as usual as quickly as possible. The longer we drag this out, the higher the number of fitness businesses and professionals that will go to the wall.
Having said that, there is nothing legally preventing you from training up to 10 people outdoors. Whatever you choose to do, please be safe.
FITREC is pausing all debits and adding 6 months to upfront purchases
Recognising the industry-wide shutdown and the impact it's having on our community, FITREC will be pausing all debits for memberships purchased on DD for six months and adding six months to all existing and new up-front registrations.
There is a significant amount of work required to update all, so the accounts may not reflect this change immediately. We thank you for your patience.
Tuesday 24th March 2020 - Day 1 of Gym Closure
Via SmartCompany
Picking an end game: Why Australia must shut everything down and restart when COVID-19 is gone.
Earn $20 for 30-Minute Workouts
Mel Tempest is offering $20 - paid directly to your account - for 30-minute workouts that people can do at home. She will be sharing these via her Facebook page and promoting them to her Genesis Ballarat members.
The only condition is that there are 30 minutes of continuous instruction. No breaks or cuts or anything. The video may be longer to account for your introduction. I suspect this is for new videos rather than anything you might have already created, but you can check this with her.
Reach out to Mel via her Facebook page.
Statement from Dennis Hosking, Managing Director - FITREC
We understand there has been conflicting information coming from the FITREC and Fitness Australia. To be clear, we believe in the intent of the government shut down of gyms, and that is to avoid any possible chance of transmission. We all want this to be over as quickly as possible. There is no ambiguity about how easily this virus is spread. Nor is there any question as to the only guaranteed method to avoid transmission - avoiding all social engagement.
Thank you to Australasian Leisure Management for sharing this article - "FITREC'S DENNIS HOSKING SLAMS 'CAVALIER AND IRRESPONSIBLE APPROACH' OF FITNESS AUSTRALIA IN PROMOTING CONTINUATION OF OUTDOOR TRAINING SERVICES"
Stay safe and stay in touch. D.
Monday 23rd March 2020
4:53 pm - Statement from Dennis Hosking, Managing Director - FITREC
In more than 25 years of working in the industry, I never imagined such a day was possible.
Today, myself and the team have spoken to professionals from all over Australia. The optimism and support for each other is something we should all be proud of. The fitness industry has a well-established reputation for reinventing itself. I fully expect we'll see some great things happen during this time. To be fair, there are going to be dark days. On these occasions, I encourage you to call a friend, call a colleague, call us or call one of the government help lines. If you send me an email, I will respond.
It may be a while away, but I'm looking forward to the moment this shutdown is lifted. As another fitness professional said to me today, 'I hope they open it up on a Sunday, so we can all celebrate on the Saturday night, as if it's NYE!'
Stay safe and stay in touch. D.
---
Focus on the intention of the shut down, not the words
The federal government has taken unprecedented action to prevent person to person transmission. Their use of the word 'gym' should be taken as general in nature and not a reference to a specific business type. We ask that all fitness professionals and businesses take into account the intention behind the closure and the importance of playing our part in the protection of our clients. The short term gain of remaining open does not justify the long term and potentially fatal consequences.
Let clients know that you want them and their families to stay safe, to be fit and to remain healthy. At this time, this means encouraging them to stay home and avoid any unnecessary contact with others.
For more insight into the value of taking extreme action, please review this article - "Coronavirus: Why You Must Act Now".
FITREC is currently exploring solutions to help you service your clients remotely. We will update you as to progress. To ensure you do not miss any updates, copy and bookmark this updates page.
More detail on the idea and intention can be found here.
Members have alerted us to the fact that Fitness Australia has been promoting the continuation of all outdoor training services. We are disappointed by this cavalier and irresponsible approach. This directive suggests a failure to grasp the enormity of the problem facing the world's population. It's putting a short term gain ahead of potentially fatal consequences for clients and their families.
Let there be no confusion, we are committed to the health and safety of our registered members, their families and clients.
Please don't hesitate to get in touch if you have any questions.
Sunday 22nd March 2020
Victoria to shut down all non essential services within 48 hours
School holidays will be brought forward to this Tuesday and all non-essential activities shut down in Victoria as the state government introduces drastic measures to slow the spread of coronavirus.
Premier Daniel Andrews has announced he will tell the national cabinet on Sunday night that Victoria is moving ahead with the dramatic plan in order to save lives. Via The Age.
There is no reason to believe that this is not going to include all gym and studios. - Dennis Hosking, FITREC Managing Director.
UPDATE at 9:44pm - Included among the non-essential services required to close from midday tomorrow are "...gyms and indoor sporting venues..."
What can FITREC do to help through this time?
Do you need information? Services? Ideas? What we can do to help you? Please stay in touch - dennis@fitrec.org / 03 9021 0836
Saturday 21st March 2020
The First Vaccine Trial has begun
From the World Health Organisation website - The first vaccine trial has begun just 60 days after the genetic sequence of the virus was shared by China. This is an incredible achievement. To ensure clear evidence of which treatments are most effective, WHO and its partners are organizing a large international study, called the Solidarity Trial, in many countries to compare different treatments.
The '1 person per 4 square meters' rule is now in effect. Prime Minister, Scott Morrison said the virus could be defeated by slowing it down. "That's how we save lives".
UK to close gyms as of tonight
The British PM, Boris Johnson, stated: "Your sacrifice means we are putting the country in a better and stronger position and we will be able to save thousands of lives". It is not certain when gyms and other public spaces will be reopened, but Mr. Johnson stated that measures will be assessed every month from now on. Read more here.
To put the transmission issue and need for social distancing into perspective, the number of confirmed cases worldwide has now exceeded 200 000. It took over three months to reach the first 100 00 confirmed cases, and only 12 days to reach the next 100 000.
Friday 20th March 2020
Statement from Dennis Hosking, Managing Director, FITREC.
It's great to see the fitness industry rallying to the cause around COVID-19. While we must hope for the best, we do need to prepare ourselves for the worst. We have not yet seen the full force of this pandemic in Australia. Hospitals are prepping ICUs for the coming onslaught. While the majority of people we deal with are low risk, remember that there is still a risk. I encourage people to have a look at this article on "Coronavirus: Why You Must Act Now".
Gyms are still operating but are STRONGLY advised to ensure...
Cleaning of equipment, hands and surfaces is taking place before entering the facility, between sets and upon leaving.
Social Distancing measures - Members/clients and staff should maintain a 4 square meter zone around themselves - Today the PM has announced that this will be enforced.
Use of a thermometer to assess people before they enter the facility is an idea we support.
Gym closures appear to be restricted to some council and many corporate facilities. This is by choice as there is no mandate from the government to do so. All the same, it is well worth looking overseas to understand all likely outcomes.
Professionals are advised to consider their options in the long term - including use of outdoor facilities, group sessions with relevant social distancing measures and virtual/online training. We are only at the beginning of this event. We do not know how long this will last for.
A focus on maintaining a connection with clients, if not actual training sessions, will be advised to aid the rebuilding of business as things return to normal.
One of the biggest casualty's at this point is the AQUA community with many pools shutting down classes.