UPDATES for our community

Friday 27th March 2020 - Day 4 of Gym Closure
The Healthy Ageing Summit is GO!
Throughout today, our home office has been tuning into the Healthy Ageing Summit online. Ken and his team have done a great job of moving the original Summit online. I thoroughly enjoyed the keynote by Craig Harper and currently enjoying the "Healthy Ageing Summit - Exercise Cognition & Brain Health." This is some next-level information for Trainers. It may not be too late to hook into upcoming weekend sessions. And I believe any ticket purchased gives you a ticket to the in-person event in 2021. Winner!
The explosion of online offerings
Early in the piece, FITREC proposed the development of a page to share details of online services to help Trainers through this time. While this still a consideration, we recognise that in the week since gyms were asked to close, there has been an absolute mass of online offerings arrive. One of the more interesting options is the ability to create your own platform, free of charge, via fitter.com. You can learn more about it in our recent HealthyPeople weekly newsletter.
This was my favourite meme today...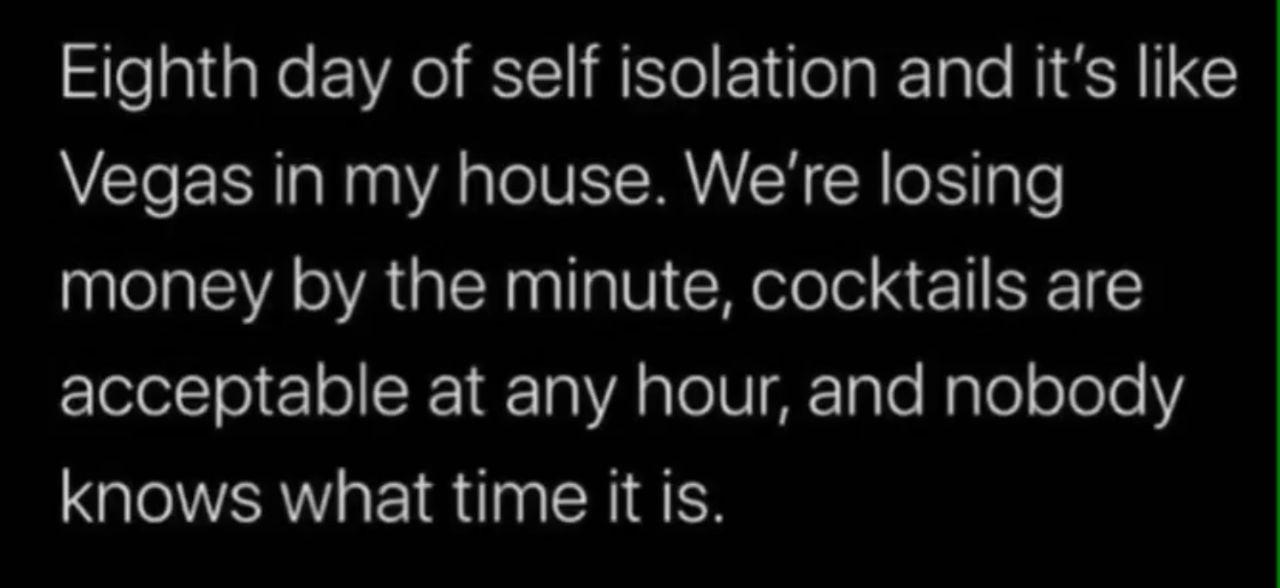 Thursday 26th March 2020 - Day 3 of Gym Closure
The FITREC registration freeze
Last night we sent an email to all members regarding the registration freeze. The response from our community was both humbling and unexpected. Thank you to everyone that took the time to reply. If you missed the news, you can learn more here.
Something to lighten the mood...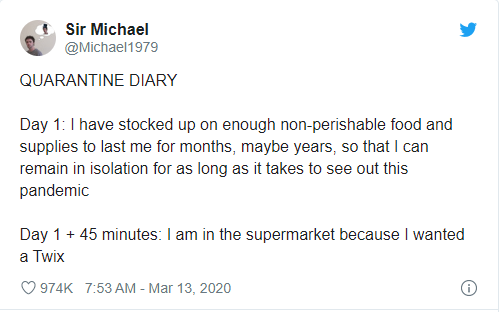 Wednesday 25th March 2020 - Day 2 of Gym Closure
Outdoor Group Training
Last night, Scott Morrison announced that "outdoor personal training and boot camps can continue, but with a limit of 10 people and social distancing arrangements must be strictly enforced."
So yes, Trainers have the ability to train outside with a maximum of 10 participants
However, these are also known facts;
Scott Morrison also shut down more of the services that were previously allowed to open. His address stated very clearly that Australians only leave the house when "it is absolutely necessary you go out".
The Chief Medical Officer is "very worried" about Australia's rising infection rate
5000 doctors around Australia have made a desperate plea for a nationwide lockdown
Countries with infection rates that we are approaching have implemented complete lockdown to prevent the spread
Our position continues to be the importance of getting this infection under control so that we can get back to business as usual as quickly as possible. The longer we drag this out, the higher the number of fitness businesses and professionals that will go to the wall.
Having said that, there is nothing legally preventing you from training up to 10 people outdoors. Whatever you choose to do, please be safe.
FITREC is pausing all debits and adding 6 months to upfront purchases
Recognising the industry-wide shutdown and the impact it's having on our community, FITREC will be pausing all debits for memberships purchased on DD for six months and adding six months to all existing and new up-front registrations.
There is a significant amount of work required to update all, so the accounts may not reflect this change immediately. We thank you for your patience.
Tuesday 24th March 2020 - Day 1 of Gym Closure
Via SmartCompany
Picking an end game: Why Australia must shut everything down and restart when COVID-19 is gone.
Earn $20 for 30-Minute Workouts
Mel Tempest is offering $20 - paid directly to your account - for 30-minute workouts that people can do at home. She will be sharing these via her Facebook page and promoting them to her Genesis Ballarat members.
The only condition is that there are 30 minutes of continuous instruction. No breaks or cuts or anything. The video may be longer to account for your introduction. I suspect this is for new videos rather than anything you might have already created, but you can check this with her.
Reach out to Mel via her Facebook page.
Statement from Dennis Hosking, Managing Director - FITREC
We understand there has been conflicting information coming from the FITREC and Fitness Australia. To be clear, we believe in the intent of the government shut down of gyms, and that is to avoid any possible chance of transmission. We all want this to be over as quickly as possible. There is no ambiguity about how easily this virus is spread. Nor is there any question as to the only guaranteed method to avoid transmission - avoiding all social engagement.
Thank you to Australasian Leisure Management for sharing this article - "FITREC'S DENNIS HOSKING SLAMS 'CAVALIER AND IRRESPONSIBLE APPROACH' OF FITNESS AUSTRALIA IN PROMOTING CONTINUATION OF OUTDOOR TRAINING SERVICES"
Stay safe and stay in touch. D.
Monday 23rd March 2020
4:53 pm - Statement from Dennis Hosking, Managing Director - FITREC
In more than 25 years of working in the industry, I never imagined such a day was possible.
Today, myself and the team have spoken to professionals from all over Australia. The optimism and support for each other is something we should all be proud of. The fitness industry has a well-established reputation for reinventing itself. I fully expect we'll see some great things happen during this time. To be fair, there are going to be dark days. On these occasions, I encourage you to call a friend, call a colleague, call us or call one of the government help lines. If you send me an email, I will respond.
It may be a while away, but I'm looking forward to the moment this shutdown is lifted. As another fitness professional said to me today, 'I hope they open it up on a Sunday, so we can all celebrate on the Saturday night, as if it's NYE!'
Stay safe and stay in touch. D.
---
Focus on the intention of the shut down, not the words
The federal government has taken unprecedented action to prevent person to person transmission. Their use of the word 'gym' should be taken as general in nature and not a reference to a specific business type. We ask that all fitness professionals and businesses take into account the intention behind the closure and the importance of playing our part in the protection of our clients. The short term gain of remaining open does not justify the long term and potentially fatal consequences.
Let clients know that you want them and their families to stay safe, to be fit and to remain healthy. At this time, this means encouraging them to stay home and avoid any unnecessary contact with others.
For more insight into the value of taking extreme action, please review this article - "Coronavirus: Why You Must Act Now".
FITREC is currently exploring solutions to help you service your clients remotely. We will update you as to progress. To ensure you do not miss any updates, copy and bookmark this updates page.
More detail on the idea and intention can be found here.
Members have alerted us to the fact that Fitness Australia has been promoting the continuation of all outdoor training services. We are disappointed by this cavalier and irresponsible approach. This directive suggests a failure to grasp the enormity of the problem facing the world's population. It's putting a short term gain ahead of potentially fatal consequences for clients and their families.
Let there be no confusion, we are committed to the health and safety of our registered members, their families and clients.
Please don't hesitate to get in touch if you have any questions.
Sunday 22nd March 2020
Victoria to shut down all non essential services within 48 hours
School holidays will be brought forward to this Tuesday and all non-essential activities shut down in Victoria as the state government introduces drastic measures to slow the spread of coronavirus.
Premier Daniel Andrews has announced he will tell the national cabinet on Sunday night that Victoria is moving ahead with the dramatic plan in order to save lives. Via The Age.
There is no reason to believe that this is not going to include all gym and studios. - Dennis Hosking, FITREC Managing Director.
UPDATE at 9:44pm - Included among the non-essential services required to close from midday tomorrow are "...gyms and indoor sporting venues..."
What can FITREC do to help through this time?
Do you need information? Services? Ideas? What we can do to help you? Please stay in touch - dennis@fitrec.org / 03 9021 0836
Saturday 21st March 2020
The First Vaccine Trial has begun
From the World Health Organisation website - The first vaccine trial has begun just 60 days after the genetic sequence of the virus was shared by China. This is an incredible achievement. To ensure clear evidence of which treatments are most effective, WHO and its partners are organizing a large international study, called the Solidarity Trial, in many countries to compare different treatments.
The '1 person per 4 square meters' rule is now in effect. Prime Minister, Scott Morrison said the virus could be defeated by slowing it down. "That's how we save lives".
UK to close gyms as of tonight
The British PM, Boris Johnson, stated: "Your sacrifice means we are putting the country in a better and stronger position and we will be able to save thousands of lives". It is not certain when gyms and other public spaces will be reopened, but Mr. Johnson stated that measures will be assessed every month from now on. Read more here.
To put the transmission issue and need for social distancing into perspective, the number of confirmed cases worldwide has now exceeded 200 000. It took over three months to reach the first 100 00 confirmed cases, and only 12 days to reach the next 100 000.
Friday 20th March 2020
Statement from Dennis Hosking, Managing Director, FITREC.
It's great to see the fitness industry rallying to the cause around COVID-19. While we must hope for the best, we do need to prepare ourselves for the worst. We have not yet seen the full force of this pandemic in Australia. Hospitals are prepping ICUs for the coming onslaught. While the majority of people we deal with are low risk, remember that there is still a risk. I encourage people to have a look at this article on "Coronavirus: Why You Must Act Now".
Gyms are still operating but are STRONGLY advised to ensure...
Cleaning of equipment, hands and surfaces is taking place before entering the facility, between sets and upon leaving.
Social Distancing measures - Members/clients and staff should maintain a 4 square meter zone around themselves - Today the PM has announced that this will be enforced.
Use of a thermometer to assess people before they enter the facility is an idea we support.
Gym closures appear to be restricted to some council and many corporate facilities. This is by choice as there is no mandate from the government to do so. All the same, it is well worth looking overseas to understand all likely outcomes.
Professionals are advised to consider their options in the long term - including use of outdoor facilities, group sessions with relevant social distancing measures and virtual/online training. We are only at the beginning of this event. We do not know how long this will last for.
A focus on maintaining a connection with clients, if not actual training sessions, will be advised to aid the rebuilding of business as things return to normal.
One of the biggest casualty's at this point is the AQUA community with many pools shutting down classes.